OH MY........I went to
BATH AND BODY WORKS
yesterday and they have their fall home scents out now, not in full force, but they are out! I picked up this room spray, AUTUMN APPLE, and I have to say if there was ever a company to pin point the true scent of apple, SLATKIN & CO. has done it. Its perfect for transitioning into fall while its still HOT outside. Its the most crisp, cool, delicious scent. A couple of sprays lasts for hours. They also have it in the candle as well. You can find it
here
.
I also picked up this candle. Its CREAMY PUMPKIN and it smells soooooo good. Thinking of lighting it up tonight. Right now these 4 oz. candles (FALL) are on sale for 4.00, quite the deal considering they are usually 9.50. You can purchase them
here
.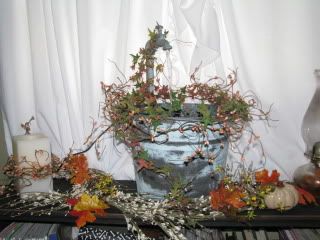 Now, on to the sights and sounds part of the post. I dug out my old fountain. You can barely make it out in the oic above, but there is water coming out of the spicket. This was not the ideal background I had in mind, being in front of the window, but it was the only option, as it was the only place for the eletrical outlet. Theres nothing better when you want a nice relaxing day to read, to listen to the water pouring into that metal bucket....its so relaxing!!!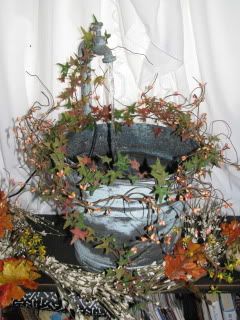 You can see it a little better here, the water anyway. Generally the bucket has ivy vined around it, but I took that out and replaced it with AUTUMNAL items.
Nothing beat battery operated candles, of course bright RED, ORANGE, AND YELLOW colors are hard to beat too!
This old OIL LAMP was here when we moved in, I love it. I have little white pumpkins and gourds outside right now, cant wait to bring them in and litter them all over the living room.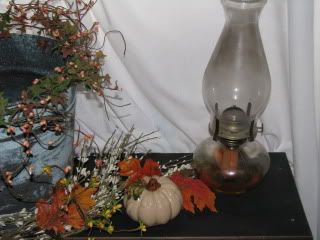 I got this one last year from my SUGAR FARMHOUSE SECRET SISTER, she was the best!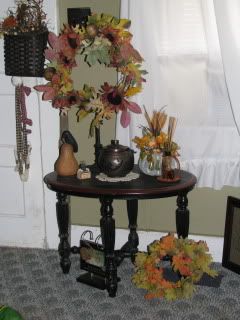 I originally wanted the fountain to be on this stand, but that didnt work out. We picked up this wreath at a yard sale for 3.00. The Halloween urn came from a yard sale a few years back, not sure how much it was, but it was cheap. I leave it out all year long, I just turn it around.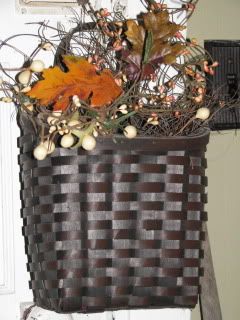 My favorite BASKET!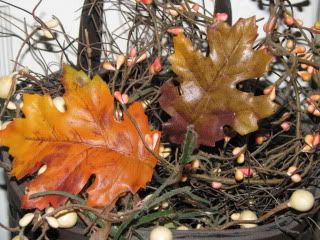 My favorite COLORS....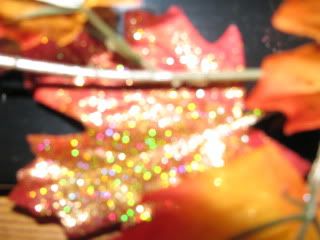 Even though Im a primitive gal, I still love all things that GLITTER AND GLOW...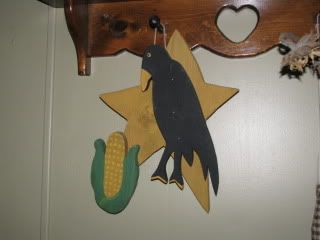 A friend made this a few years ago, I have another picture thats not out yet......and its my fave!
Hope youve enjoyed my FALL PREVIEW, I do have a few more things to put out.....time will tell if that happens or not!
This is my favroite time of year, Do you realize FALL officially starts September 23rd??? WOO HOO!
I had planned on blogging a bit more today, but looks like a storm is rolling in so I better get off of here and keep our fingers crossed we get it because its a scorcher here today, feeling like 105 degrees.....not very fall like , huh?
So, have you started your fall decor yet?